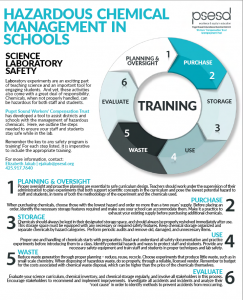 The Puget Sound Workers' Compensation Trust recognizes the challenges facing schools when it comes to safe chemical use in a classroom environment.
Although laboratory experiments are an exciting part of teaching science and an important tool for engaging students, these activities also come with a great deal of responsibility. Chemicals, when not properly handled, can be hazardous for both staff and students.
In order to better assist our districts in the management of hazardous chemicals, PSWCT has developed a tool, "Hazardous Chemical Management in Schools," outlining the steps needed to help staff and students stay safe while in the lab.
Remember the key to any safety program is training! For each step listed in this handout, it is imperative to provide the appropriate training.
Watch for More
We are here to support our member districts with the management of hazardous chemicals and to help you stay in compliance with the relevant regulations.
Our industrial hygienist, Elizabeth Jakab, will be meeting one-on-one with our districts in the coming months to promote safe chemical use. Feel free to contact her with any questions at (425) 917-7640.