Based on feedback from our school district members participating in the Return-To-Work Incentive Program (RTWIP), we have simplified our reimbursement process to reduce the number of documents required for submission.
We are now accepting the Job Offer Letter as documentation of the injured worker's salary by asking that member districts include the worker's current hourly wage in this letter. We have updated our RTWIP reimbursement application forms to reflect this change.
Supporting documents to include in the application:
Payroll Information: Daily time sheets documenting the actual hours worked each day.
Job Offer Letter documenting the accommodation made and hourly wages the worker is earning.
Additional supporting documents that should already be in the claim file that the PSWCT Team will review in evaluating the application submission:
Activity Prescription Forms (APFs) documenting the injured worker restrictions.
If available, Light Duty Job Analysis signed by doctor (recommended).
In other, but related news, if you missed our October 21 training on "Incentivizing Best Practices that Support School District Staffing Stability," we shared some interesting data on the Trust's collaborative work with participating school districts around return-to-work best practices and how the adoption of those practices contributed to supporting staffing stability.
In 2018, with greater emphasis, PSWCT promoted and encouraged return-to-work best practices at the claim and school district levels through audits. During the first year of this intentional work, the average wage loss days paid per claim decreased by 20 days. The following year, prior to school closures, an additional 10 days were shaved off time-loss claims. Injured staff returned to work faster, saving half a million dollars in time-loss paid in 2019, even with an additional 50 claims reported in that year!
Pandemic-related school closure that began in March 2020 practically eliminated the ability to provide return-to-work accommodation to injured workers. The chart below illustrates the tale of two halves. The first six months of the school year saw a reduction in time-loss days due to return-to-work accommodations. With accommodation no longer feasible because of school closure, returning injured workers were essentially "removed" from their transitional work duties. As a result, time-loss days increased by 57% for the remaining six months of the year and drove the time-loss days outcome for the entire school year. The school closure scenario and its impact on accommodating returning injured workers is akin to school districts not adopting a best practice return-to-work program.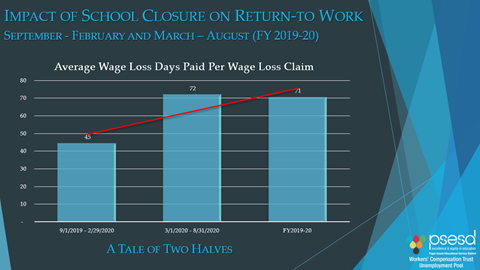 We applaud efforts to accommodate your injured employees. We will continue to support you with best practices, consistency, and communication at all levels as we navigate these challenging times together.