A RTW Shout Out to all the Districts collaborating with each another to develop best practices! We are so happy to see leaders sharing their ideas with other Districts.
We ARE one Trust!
~~~~~~~~~~~~~~~~~~
Another Science Lab Safety Success Story!
Welcome back to our Cheers to Peers column – a space to recognize some of the excellent work being done in our member districts. Today we are saying "cheers" to Snohomis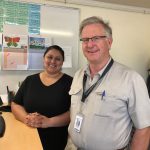 h School District's Custodial and Maintenance division.
Snohomish district is making good progress by disposing of approximately 350 pounds of hazardous wastes.
During the last two years, David Wells, Custodial Supervisor and District Chemical Hygiene Officer for science lab safety and Indoor Air Quality began collaborating with Elizabeth Jakab, WCT's Industrial Hygiene Consultant. Although he has no science background, he does have a logical approach and invited Elizabeth to assess all high school and middle school labs last summer. One of the results of those visits, and the follow-up consult, is the safe and legal disposal of approximately 350 pounds of hazardous chemical wastes just from one of their high schools!
David and his awesome associate, Maintenance Secretary, Inez Garcia are tracking which schools or buildings the waste derives from and David even has transported the waste to the county himself. The Snohomish High School, with one or two small batches from Glacier Peak are the main contributors thus far.
Thank you, David and Inez for your initiative and drive to ensure safe and legal waste disposal.
~~~~~~~~~~~~~~~~~~
Megan Walker, 6-12 Science Facilitator for Federal Way Public Schools reports a delivery to the drop-off site in Bellevue last year of a total of 20 5-gal buckets of science lab hazardous waste.
They are also taking advantage of the King County Small Quantity Generator Voucher Incentive Program (VIP) that provides up to $600 reimbursement per site.
Thank you to Megan and her team who are currently working on delivering more from area schools.