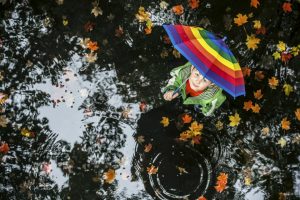 Saying goodbye to the warm days of summer and hello to the cool days of fall, we want you to be aware of seasonal hazards that can catch you by surprise.
Here are seasonal safety topics to discuss with workers, crews, and safety committees.
Working Outdoors
Look Up Before Pruning Trees – survey the area carefully and make note of power lines and large limbs.
Use Caution on Ladders – wear appropriate footwear and be cautious, as shoes or boots may be wet, causing you to slip as you climb the ladder. Position the ladder on a flat surface before use.
Clean Up Fallen Leaves – wet leaves can create a slippery hazard for pedestrians.
Rake Leaves Safely – stand upright while raking and pull from your arms and legs. Don't overfill leaf bags, and when picking them up, bend at the knee and use your legs, not your back, for support.
Choose Proper Attire – If you use a leaf blower, shield yourself. Wear appropriate clothing, eye protection, and footwear.
Avoid Pests – stay alert to insects, spiders and snakes to avoid bites and stings.  Also beware of poison oak and ivy.
Poor Visibility
Daylight Saving Time – as we near the end of the year, it will get darker earlier.
Unpredictable Weather – sun can turn to rain very quickly so be prepared.
Fog – can greatly limit your driving visibility and perception of distance. Use your low beams when driving (high beams bounce off the fog and create glare).
Fire Safety
Test and Replace – fall is the time to test your smoke alarms and carbon monoxide detectors and replace batteries.
Stay Healthy
Flu Shots – fall is the start of flu season, and it's recommended that everyone 6 months and older get vaccinated against the flu.
Wash Hands – one of the best ways to avoid getting sick is to wash hands regularly and thoroughly.
Stay Home – when you are ill, avoid going to work and spreading it to your team.
Drive with Caution
Rain – watch for pooling water and slippery pavement.
Leaves – falling foliage can litter the roads, making them slick while obscuring traffic lines and other pavement markings. They also hide potholes and other road hazards.
Frost – beware of morning frost and icy spots on the road, especially on bridges, overpasses, and shaded areas of the road.
Sun Glare – glare can impact your sight for seconds after exposure, making it hard to see pedestrians, oncoming traffic, traffic lights, or the car in front of you. When the sun sets behind drivers, it can bounce off the rearview mirror or reflect off traffic lights up ahead, and this can blind you for a split second while your eyes adjust.
Wildlife – watch for wildlife, especially deer. The fall season brings an increase in deer activity because it's their time for mating and migrating.
Tire Pressure – check your tire pressure. Since fall weather rapidly changes from warm to cold, your tires will often expand and contract leading to a loss of pressure.