The WA State Department of Health (DOH) released K-12 COVID-19 Requirements for Summer 2021 and 2021-2022 School Year. The guidance was prepared based on the latest science recently released by the Centers for Disease Control and Prevention (CDC) guidance and American Academy of Pediatrics. In addition, Governor Inslee has updated the K-12 Schools COVID emergency order(Proclamation 20-09.4), to require all educators and students wear face coverings inside, which is consistent with the CDC's recommendations for K-12 schools. =
Continued collaboration with your local health agency in conjunction with CDC, WA State DOH, and OSPI will assist in the planning and updating of your COVID-19 protection plans in preparation for in-person instruction. Member districts are encouraged to also work closely with internal partners including their designated COVID-19 coordinator, maintenance and operations, safety personnel, nurses, and administrators.
As we navigate our re-opening, we urge member districts to continue with their layered, multi-faceted approach to reduce the risk and transmission of COVID-19 as recommended by the above agencies. Ask your Account Manager for a copy of the joint presentation from June on COVID & Back to School from Elizabeth Jakab, Industrial Hygiene Consultant and Nancy Bernard, WA State Department of Health (DOH).
There is not one key component to protection against COVID-19. To ensure success, we recommend the effective application of multiple elements as in the well-illustrated "Swiss Cheese" model seen below.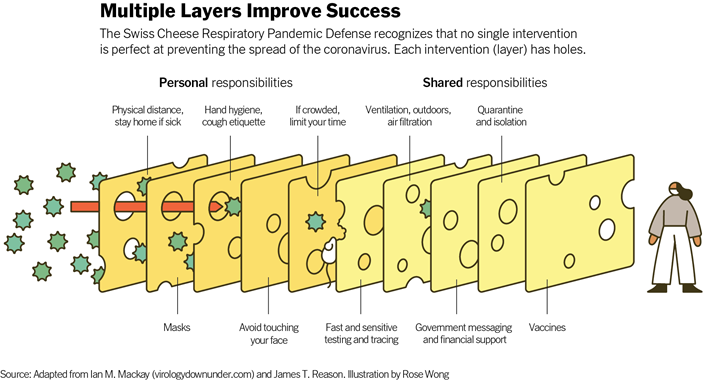 These general infection control measures have become more important than ever:
Frequent handwashing with unscented plain soap and warm water,
Alternatively, the use of alcohol-based hand sanitizers when water and soap are unavailable,
Disconnecting air blow dryers as they spread germs and replacing them with disposable paper towels per WA State DOH recommendation.
Preserving clean and healthy air inside classrooms by increasing ventilation is a key element of COVID-19 protection but should be used along with other best practices. Mechanical ventilation and filtration will vary by building space and can be somewhat limited in older buildings, though by increasing outside-air supply and remaining attentive to the rest of the factors above, we can achieve the combined desired protection. Areas of high traffic should have additional ventilation as that will help reduce the transmission of viruses. Improving ventilation benefits indoor air quality by reducing exposure to chemical products used for cleaning and disinfecting surfaces.
The presence of smoke from wildfires adds another worsening factor to the pandemic and makes opening windows impractical to increase ventilation with all or mostly outdoor air. Opening windows where there are no mechanical ventilation systems will allow smoke and outdoor allergens to enter indoor spaces (HVAC) so runs counter to the proposal to close windows for protection against wildfire smoke. This leads us back to the "Swiss Cheese" model, the layered approach where if windows must be closed, then the rest of the safeguards must be top notch.
Another component of this multifaceted approach is frequency of cleaning and disinfecting of classrooms using EPA-registered products. Disinfection must only be completed by adults who have been trained on the specific disinfectant product, who strictly follow label guidance and precautions, and who wear proper personal protective equipment (PPE). To reduce exposure to cleaning and disinfection products and by-products, ventilation must be a priority during and after cleaning. The Environmental Protection Agency (EPA) maintains a list of disinfecting products that meet agency standards for use against COVID-19 called List N: Disinfectants for Use Against COVID-19. Additionally, decluttering rooms, removing soft objects that can harbor dust, dust mites, bacteria, and viruses for a longer time that cannot be disinfected is another strategy to aid in this effort. WA State DOH recommends eliminating soft furniture, blankets, pillows, area rugs, stuffed toys, and excessive decorations that distract from proper cleaning and disinfection.
In addition to adequate masking and cohorting, physical distancing, maximization of outdoor activities, ongoing sanitization measures, enhanced ventilation, prompt testing, contact tracing, and isolation of students and staff, frequent and regular review of operational plans are just as important to preserving in-person learning.
The layered application of these mitigation strategies will vary in our own school community as this landscape is ever-changing and buildings, rooms, and situations can significantly differ. Consistent application of the layered approach is not only a necessity but our obligation to our communities.
Resources