Orting High School, situated adjacent to the Puyallup River is lucky to have former English teacher and soccer coach, Cliff Fries as its Principal. Mr. Fries immediately contacted the Orting School District when his staff experienced ergonomic related workplace challenges while teaching remotely due to the COVID-19 pandemic.
Ergonomics refers to the way our bodies interact with the work we do and the tools we use. Remote teaching meant prolonged time spent on the computer communicating with students and colleagues, which, for some, exposed poor ergonomic conditions. Seemingly small things, such as computer screens being too low for the user can contribute to discomfort.
Caryn Pekarek is a Special Education Teacher and Special Education Case Manager who has worked with Orting School District since 2004. During the school shutdowns of the 2020-2021 school year, her work transitioned to be fully remote, and, after months of remote work, developed symptoms suggesting poor ergonomics conditions at home.
A benefit of membership in the Worker's Compensation Trust includes a professional Ergonomic Evaluation of an employee's workspace. Even when this employee is working from home. This evaluation is used to observe the employee perform normal work duties in their typical work location. Recommendations for improvement are then made by the Loss Control Consultant conducting the evaluation. Mr. Fries shared that, "It was nice to refer Caryn's concerns to someone with expertise in the science of ergonomics."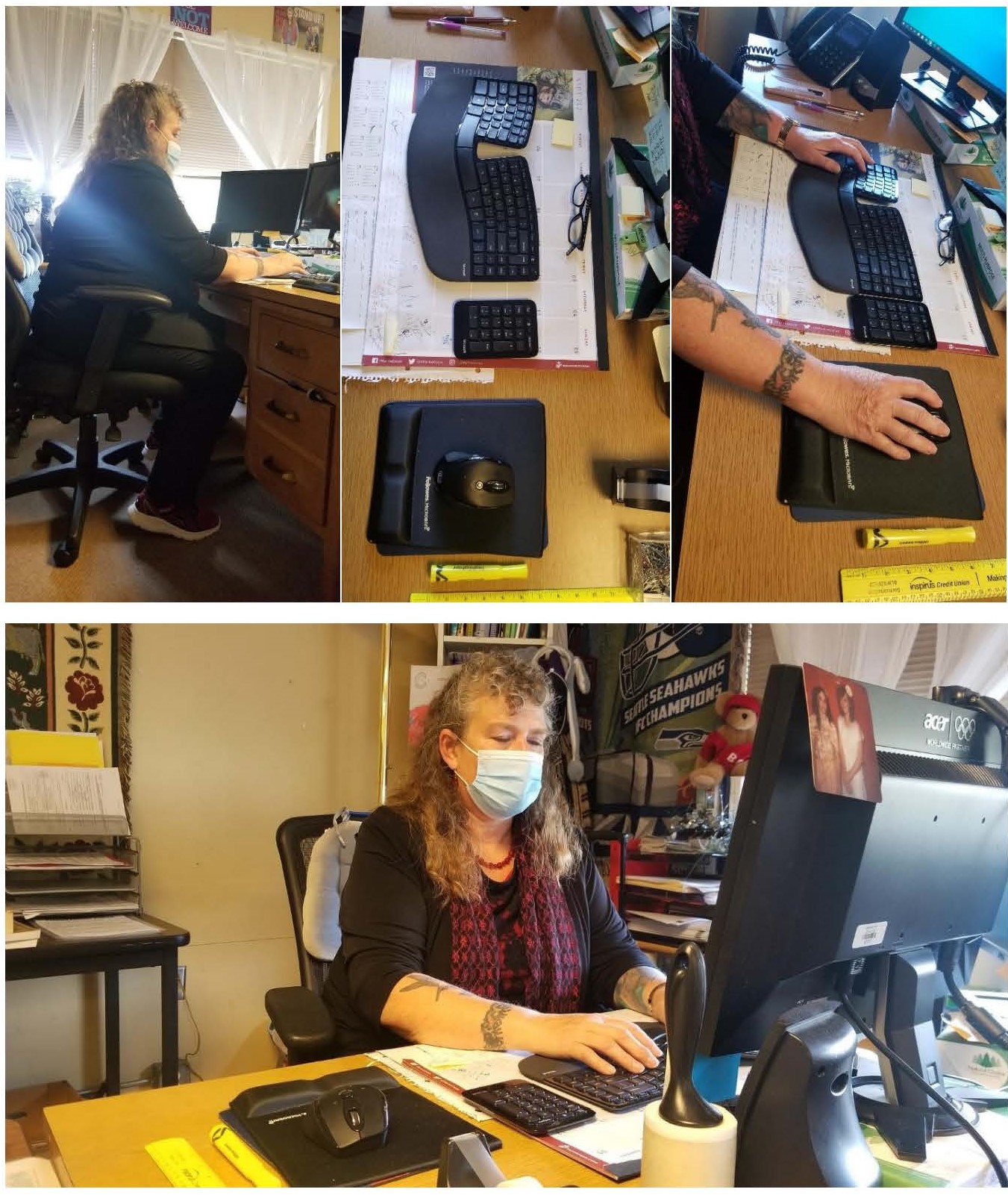 Orting School District recognizes that educators are having to think more about ergonomics and safety while teaching remotely. Orting School District encourages staff to identify safety concerns that could impact students, staff, and volunteers. At the start of each school year, teachers are given access to a Google Forms page to document any safety concerns. Maintenance work orders are also used to prioritize larger projects that affect safety conditions.
Since implementing ergonomic improvements for Ms. Pekarek, her productivity and morale have increased significantly. Ms. Pakarek expressed gratitude for the support she received from her supervisor, Mr. Fries saying, "The administration really cares about us. We are like a family here. (They know that) if we are not able to be here for the kids, their education would be impacted."
All members of the Worker's Compensation Trust are encouraged to take advantage of our services, including professional ergonomic evaluations of the workplace. Ergonomics is relevant to all job positions and can be a cost-effective strategy to prevent occupational injury and reduce costs of worker's compensation insurance coverage.
Contact our Risk Consultants to learn more.