Chemical Hazard Communications
Federal and Washington state regulations protect employee health at workplaces where hazardous chemicals are used. These regulations have been in effect for decades and they are mandatory for schools, since school districts use a broad variety of chemicals in different areas and programs.
The Globally Harmonized System (GHS) for Hazard Communication, or "Right to Understand" regulation (WAC 296-901) requires that districts develop, implement, and maintain a written, customized Hazard Communication (Hazcom) Program that specifically describes how different programs in their own district are using hazardous chemicals and how they specifically meet the criteria set forth by the law. See the mandatory elements of the Hazcom Program below: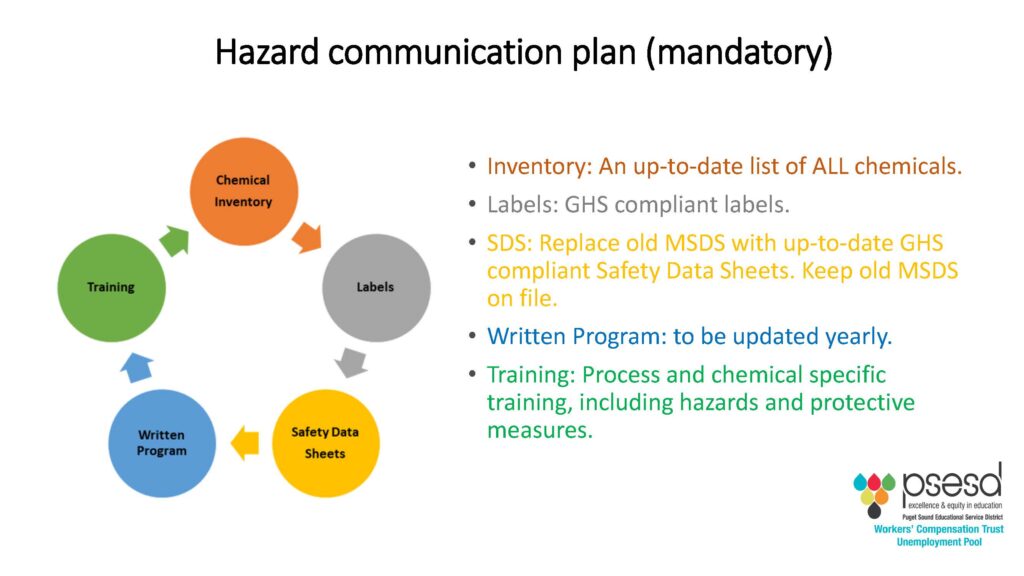 Refer to the WCT GHS Poster which is also linked at the bottom of this page. The one page document summarizes the elements of proper chemical labeling and Safety Data Sheets (SDS). The poster can be printed on legal size paper then laminated for posting in the areas where hazardous chemicals are used or stored.
The law requires that employers:
Inform employees about the chemical hazards that they may be exposed to while performing their jobs;
Explain how to best protect themselves;
Choose and provide appropriate personal protective equipment;
Provide training before an employee starts the job and refreshers whenever the hazards change;
Ensure that there is an up-to-date chemical inventory, chemical containers are properly labeled, and Safety Data Sheets (SDS) are immediately available for each hazardous chemical;
Supervise that the rules are followed.
Employees also play a significant role in workplace safety. The Department of Labor and Industries spells out that employees "must play an active role in creating a safe and healthy workplace and comply with all applicable safety and health rules." (WAC 296-800-120)
The WCT/UP recommends that our member districts go above and beyond the minimum, legally mandated requirements, and plan and centralize chemical purchasing for all programs. Designated, well-qualified employees need to pre-screen chemical orders and make informed choices about the best and least hazardous chemical alternatives. We also recommend that employees be restricted from bringing in and/or ordering their personal favorites, whether those are specialty chemical products, cleaners, disinfectants, or "air fresheners" and scent diffusers.
The WCT's Industrial Hygiene Consultant can assist districts in setting up and updating district Hazcom Programs, perform site assessments, consult on cleanouts and waste disposal, and can assist in selection of less hazardous alternatives. The Vector Solutions (formerly SafeSchools) on-line training system provides free, convenient basic training segments for GHS Chemical Hazard Communication, Safety Data Sheets, and Spills. After the completion of these basic segments, the WCT/UP can assist with more specific and higher-level training.
Please contact the WCT's Industrial Hygiene Consultant Elizabeth Jakab or call 425-917-7640 for assistance.
References:
Globally Harmonized System (GHS) for Hazard Communication, or "Right to Understand" regulation https://apps.leg.wa.gov/wac/default.aspx?cite=296-901
Employee responsibilities: https://app.leg.wa.gov/WAC/default.aspx?cite=296-800-120&pdf=true
Review Hazardous Chemicals in Schools page for more information.