Currently, seventeen school districts are participating in the Return-to-Work Incentive Program (RTWIP). PSWCT is working hard on a claim-by-claim basis to support early return to work, reduce time loss, and increase injured workers' value and self-worth by creating an environment for their ongoing contribution as an employee. Fiscally speaking, our model is working. Time loss days are decreasing year over year. School district members working collaboratively with their assigned Claims Consultants, respective Human Resources Departments and Managers contributes to this success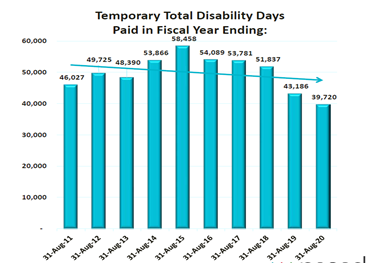 At the "RTW in the Weeds" training in April, Mukilteo School District shared how their participation in the RTW Incentive Program has saved them time and money. They felt the time and effort invested in developing alternative work assignments, removing financial barriers, and promoting the program as a free set of hands, among others, was worth the financial benefits they have seen. In the 2019-20 school year, Mukilteo reported that by instituting return-to-work best practices, they experienced a financial return of $211,000 in return-to-work incentives and an annual rate reduction while spending $13K on the program!! Not only did Mukilteo report financial rewards, they also saw a stabilization in the workforce where injured employees returning to work with restrictions felt connected to their livelihood, and their wages increased by 80% by remaining at work.
The 2021-22 school year is just around the corner. Please connect with us about gaining the resources to become RTWIP eligible.
Contact Return-to-Work Manager, Aliza Hauser with any questions.