Services
We can assist districts in the detection, correction and prevention of work-related musculoskeletal disorders among their employees. We can provide worksite analysis, consultations and training to all district employees. To get started, please submit a request to your supervisor or district coordinator.
Worksite Evaluations – Office Ergonomics
A worksite evaluation is a 20-40 minute in-person assessment of the employee's workstation. A Loss Control representative from the Trust will review the basics of office ergonomics and workstation set up. Appropriate adjustments and/or recommendations will be provided, along with a written evaluation to the employee's supervisor and/or department manager. If recommendations include any new purchases, it is the responsibility of the individual's department to make them. The recommendations are usually to modify existing workstations as cost effectively as possible.
To get started, please contact your Risk Consultants.
HELPFUL ERGONOMIC TIPS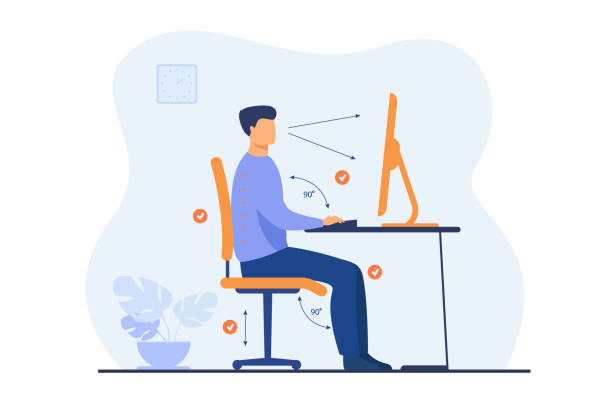 How to Setup Your Workstation
Whether you are a new employee or at a new workstation there are 4 ergonomic points to keep in mind. Follow these 4 easy steps to help set up your computer workstation:
Step 1: Chair Setup
Height
While standing, adjust the height of the chair so the highest point of the seat is just below your kneecap. This should allow your feet to rest firmly on the floor when seated. If you feel pressure near the back of the seat, raise you chair. If you feel pressure near the front of the seat, lower your chair. The goal is to evenly distribute your weight.
Back Support
When sitting, adjust the height of the backrest so the lumbar pad supports the natural curve of your lower back (lumbar curve). The tilt of the back support should allow you to sit with your upper body slightly reclined (110 degrees is usually recommended).
Seat Tilt
Seat tilt can be adjusted to improve your comfort. This will also affect your weight distribution. A tilt of five degrees is usually recommended.
Depth
When sitting, the seat pan (part of the chair you sit on) should allow you to use the back support without the front of the seat pressing against the back of your knees. If the seat is too deep, try a back support (lumbar pillow) to reduce the size of the seat pan. Some chairs have adjustable seat pans. The adjustment lever is usually located under the front of the chair, much like the lever that moves the seat forward and backward in a car.
Width
The seat pan should be wide enough, so it does not apply pressure to your thighs. Conversely, the seat should be narrow enough to be able to reach the armrests when they are properly adjusted.
Armrests
Armrests can provide support for the upper part of your forearms, thereby reducing the stress on your shoulders and back. However, the armrests should not prevent the chair from being drawn close to the desk, nor restrict natural movements. If your armrests cannot be adjusted to allow for this, then consider removing or replacing them. Also keep in mind that soft armrests will minimize contact stresses on your elbows. Gel wraps can be purchased to go over armrests that may be too hard.
Step 2: Worksurface Setup
Keyboard and Pointing Device
Height
Position your keyboard 1 to 2 inches above your thighs. For some people, this requires a keyboard tray. Adjust the keyboard height so that your shoulders are relaxed, your elbows are in a slightly open position (100° to 110°), and your wrists and hands are straight. If you do not have a fully adjustable keyboard tray, you may need to adjust your workstation height, the height of your chair, or use a seat cushion to get in a comfortable position. Remember to use a footrest if your feet cannot touch the floor.
Tilt
The tilt of your keyboard is dependent upon your sitting position. Use the keyboard tray mechanism, or keyboard feet, to adjust the tilt. If you sit in a forward or upright position, try tilting your keyboard away from you at a negative angle. If you are reclined, a slight positive tilt will help maintain a straight wrist position.
Position
Ideally, your keyboard and mouse should be shoulder-distance apart and as level as possible. Place the pointer as close as possible to the keyboard. Placing it on a slightly inclined surface or using it on a mouse-bridge placed over the 10-keypad, can help to bring it closer. The pointer should be placed as close as possible to the keyboard.
Step 3: Monitor, Documents, Telephone
Monitor, Documents and Telephone
As a general rule, it is best to distance at least an arm's length away from the screen and then adjust the distance for your vision. The monitor should be positioned directly in front of you with the top of the monitor just below eye level.
Reduce glare by careful positioning of the screen.
Place screen at right angles to windows
Adjust curtains or blinds as needed
Adjust the vertical screen angle and screen controls to minimize glare from overhead lights
Other techniques to reduce glare include use of optical glass glare filters, light filters, or secondary task lights
When using a document holder, place it between your keyboard and monitor. This will minimize refocusing when your eyes go from one to the other. A vertical documents holder should be positioned next to the monitor for the same reason. If you spend the majority of your time reading from a paper copy, you may want to position your vertical holder directly in front and place your monitor to the side
Keep your phone within easy reach. If you use it while keying or writing, use a headset or a speakerphone to avoid awkward positioning of your neck. Using a wedge on the receiver is not considered acceptable, as it still requires the individual to raise the shoulder and bend the neck in an awkward posture.
Step 4: Rest Breaks
Rest Breaks
Rest is a key component in ensuring the performance of the musculoskeletal system. Frequent breaks can decrease the duration of a task and help lower risk of injury. Avoid extended periods of work during continuous tasks by taking short breaks (~2 min) or by working in task rotations. Take microbreaks (approximately 30 seconds to 1 minute) every 20 minutes to rest the upper and lower extremities, back, neck, and eyes. Consider light stretching every hour or as needed.
Helpful Links
NIH Ergonomic Self-Assessment Checklist
OSHA Ergonomic Assessment Checklist