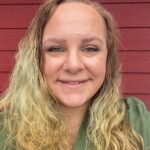 Claims Coordinator, Alicia Brewer started with PSWCT/UP on October 11 as the newest member of the Claims Operations team. Her background with the Department of Labor and Industries as a Billing Treatment Adjudicator means that she is familiar with Washington State, Medical Aid Guidelines. Providing customer service to our members and their injured workers is an important and familiar area of work for Alicia having experience with a national healthcare company where she was responsible for verifying benefits, properly registering new patients, and obtaining medical authorizations.
Alicia enjoys reading, knitting, planning vacations, and professes to have a weakness for chips and diet soda.
Her eclectic tastes range from Pride & Prejudice to Grace & Frankie, and she acknowledges Madonna was a childhood role model. The nerdiest thing she'll do in her spare time? "Re-watch The Lord of the Rings over and over as background music to my life."
Please welcome Alicia Brewer to the PSWCT/UP family.